Let me start by saying that I have two chairs in my living room from Pier 1 that are very short. Therefore, I was in search of the perfect table to go in between them. When I am looking for something particular, I always carry a tape measure with me in my purse...so let's just say that I always carry a tape measure!
Here is the table before:
I chose to start the process by spray painting the table. I normally don't use spray paint because it is more expensive and, let's face it, here in Washington State the weather does not often permit the speedy luxury of spray painting outside. I normally prime all of my pieces, but I did not have spray primer. So, instead I just gave the piece a light sanding. I did not stop after the third and final coat of spray paint. I almost can never leave my projects plain Jane. It was scrapbook paper and ribbon to the rescue! I used my Xacto knife to trim the excess paper around the edges. The paper did not cover the entire table top, so I used the extra I trimmed off to fill in the blank spaces on the edges. It was like a puzzle! I glued everything down with Modge Podge.
At the risk of going overboard, I added a ribbon trim to the under side edges. I couldn't resist it because it matched the scrapbook paper perfectly and boasted a cute design! I don't think it was overkill ~ I think it was fabulous!
Here is my finished product! And she fits perfectly between my two chairs! All that I still need to do is have a glass cut to protect the paper on the top. I considered using epoxy, but I wouldn't be able to change it later if I choose!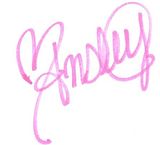 I like to party hardy: